Auto Train Travel Tips
by Don Weinstein
Last update October 15, 2012
---
Stations and Vehicles
Traveling to the Station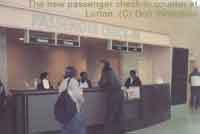 The Auto Train is scheduled to depart each afternoon at 4:00pm, although it may actually leave a bit earlier if boarding is finished and the engineer receives a green light to proceed. The Auto Train is scheduled to arrive at its destination at 9:30am the next morning, making this a 17.5 hour trip. If the track is relatively clear of freight traffic, the trip may actually be an hour or two shorter. You are asked to arrive at the train by 2:00 and MUST check in no later than 3:00 (2:00 for motorcycles and SUV's/Vans). Amtrak is not kidding about this and enforces it strictly! For the train to pull out on time they must stop loading vehicles by this time. I suggest arriving at the station between 12:30 and 1:30pm.
Leave a comfortable cushion of time if you're driving some distance to get to the station. Expect heavy traffic, including on weekends, on I-95 through the DC area and on I-4 through the Orlando area. It's a good idea to have an alternate route in mind in the event of a major highway traffic jam, such as using US 1 through Northern Virginia, which more or less parallels I-95, or Routes 17/92 north of Orlando, which basically run alongside I-4. Another alternate driving route around the Orlando traffic is the use of route 417, a toll road that runs to the east of Orlando and ends in Sanford (expect to pay over $5 in tolls between Sanford and the DisneyWorld area). If using Route 417, look for signs directing you through downtown Sanford, then west on Route 46 to the Sanford terminal.

In the past few years there has been a great deal of retail construction near the Lorton and Sanford terminals, making it easier to purchase lunch, find a hotel for an overnight stay, pick up a soda, and buy gas. In Sanford, the stretch of Route 46 between I-4 and the Auto Train terminal is now filled with restaurants, small hotels, and drugstores. In addition, the city of Sanford offers a shuttle providing free transportation between the Auto Train terminal and historic downtown Sanford between the hours of noon and 2:40 pm.

Just past the Lorton terminal, off Lorton Road, is a new strip mall ("Lorton Station") with a couple of restaurants and a full-service grocery store. Also, a few short exits south of Lorton on I-95 is the massive Potomac Mills outlet mall (one of the largest in the country) and a short drive south of Sanford is the interesting and attractive college town of Winter Park, which has numerous attractive restaurants in its downtown shopping area, plus the Charles Hosmer Morse Museum, which contains one of the finest collections of Tiffany Glass in the country. The Seminole Towne Center shopping mall, which includes a variety of department stores plus a food court, is just off I-4 at the exit for the Sanford station. Another option is the Altamonte Mall located about halfway between Orlando and Sanford at I-4 exit 92. All are good places to spend some time and have lunch if you arrive in the station area too early (Amtrak begins check in cars at 11:30, but it seems pointless to arrive that early). Both Potomac Mills and Winter Park are about 20 minutes from the respective Auto Train terminals. The Seminole Towne Center is about five minutes from the Sanford terminal. Signs on I-95 and I-4 note the exit for the Auto Train, making finding the station very easy. The Lorton station is literally alongside I-95 at exit 163. The Sanford station is about three miles east from I-4 exit 101C, just off Route 46. Click the following links to see maps and driving directions in separate browser windows:
Arriving at the Station

When you arrive at either Lorton or Sanford and turn up the entrance driveway, you will encounter an attendant in a small check-in booth. There may be a brief back-up of cars at this point but don't worry; the line typically moves rapidly. As of February 25th, 2001 Amtrak has started moving to E-ticketing for the Auto Train. If made your reservations before the 25th and you already have your traditional printed tickets, then you must bring those with you and present them at the booth. If you have not had your tickets printed, or made your reservation after the 25th, then you only need to present your printed reservation confirmation with the barcode on it. Reservations made through a travel agent will still have regular tickets issued that must be presented. Further details can be found here.
The attendant will check your ticket, place a number placard on the side of your car or on your dashboard, write the number on the placard on your ticket envelope, and then instruct you to drive forward to the station building. When you pull up, leave your car, take your carry-on luggage and any valuables. There are small luggage carts that will help you to move your carry-on luggage into the terminal building. Leave your key in the ignition, do not apply your parking brake, and, if requested, leave your drivers-side window open. Be absolutely sure to turn off any auto alarms in your car-you don't want the alarm to go off during the trip and drain your battery!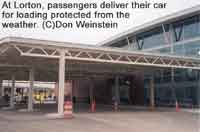 You will not be able to get to your auto until it is unloaded 855 miles away, so be sure to take from your car any items, including medications, that you may need while on-board. The placard placed on your car has a claim number by which your auto will be identified when it is unloaded at your destination. Luggage and any loose change remaining in your car should be locked in the trunk. Although I believe that Amtrak's loaders/unloaders are hard-working and honest, there's no point in tempting them by leaving out cash or other valuables.
Amtrak is careful of the way they handle the autos. You'll see a variety of cars being loaded, ranging from luxury models to family sedans. There will be an Amtrak contractor who will quickly make a video of the outside of your car to document its condition when you arrive at the terminal.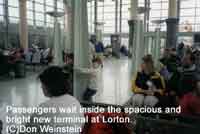 After giving up your car, you walk to the nearby waiting room and check in at the counter. You'll need to present either your paper tickets or your E-ticket/barcoded confirmation. Since 9/11, all adults in your party will be asked to show picture id's, such as drivers licenses. You will be asked which dinner seating you prefer and will be given a coupon for dinner. There are usually two or three choices of seatings, typically 5:00, 7:00, and 9:00. If the train isn't crowded, there may be fewer seatings (on occasion during very off peak times, I've seen where there was only one seating for dinner). Families tend towards the 5:00 seating. When there are three dinner seatings, the middle one (around 7:00pm) is usually the most popular. For the best selection of dinner seatings, check in at the station by 1:00pm.

The new Sanford Auto Train terminal opened in the fall of 2010, replacing structures built in 1971 for the original Auto-Train Corporation. Somewhat similar to the Lorton terminal, the 10,000 square foot facility is airy spacious, with high windows letting in the Florida sunshine. There is seating for 600 passengers, a ticket counter, a small cafe and gift counter, and a play area for the children. Portions of the original building are being modernized and converted into office space. The Lorton terminal opened in 2000, and provides a large, modern waiting area with high glass walls. There's a small gift shop and snack bar with some tables to eat and relax at away from the general activity of the main waiting room. The Lorton gift shop carries a small variety of Auto Train souvenirs, such as tee-shirts, caps, and postcards.


There are children's playgrounds at both stations. The one at Lorton is easy to spot. To find the one at Sanford, leave the terminal building and turn left, walking towards where the Auto Train engines are idling. At Sanford the gift shop/refreshment stand is temporarily housed in a trailer. To find it leave the terminal building on the trainside, turn right, and then right again into the tented waiting area, go through it diagonally across, out a door and then up a ramp into the trailer.
Outside the waiting room are the tracks where you will find the cars of the train set out for boarding. In Lorton there is one long track; in Sanford there are two tracks on which the passenger cars are located. Off to the side and rear are a number of tracks where Amtrak employees load your car onto the auto carriers. This is a fun operation to watch between around 2:30p.m., when you can begin boarding the train to find your seat or compartment, and 3:00 p.m. when all passengers are required to be on board and the train doors are closed. If you leave the train between these times, don't wander far, and listen for announcements over the station's PA system; it's always possible the train may leave a bit ahead of schedule.
Vehicle Limitations
Automobiles must be 65" or shorter in height. Vans must be 85" or less in height. If taking a van, motorcycle, trailer, travel trailer, boat trailer with boat, or jet ski trailer be sure to tell Amtrak when you make your reservation. Also remember that the latest time vans, motorcycles, and trailers can be checked in is 2:00 p.m.
All vehicles must have a ground clearance of at least four inches (this should not be a problem unless you have an exotic or custom-built car).
The Auto Train cannot carry vehicles with temporary luggage or bike racks on top, but empty factory-installed luggage racks, provided they meet the overall height restrictions, are not a problem.
Special racks are used to secure motorcycles. The motorcycles are held in place with wheel locks, side straps, stabilizing bars and an optional padded clamp for the seat. Motorcycles with standard and factory-approved farings and saddlebags are carried on the Auto Train, but custom motorcycles, motorcycles with sidecars and chopped motorcycles cannot be accommodated. You will be asked to help position and secure your motorcycle on the flatbed carrier before the train departs, and to assist in taking your bike off the carrier when you arrive at your destination. You can expect a number of motorcycles around the time of the Daytona rally.
Upon Arrival at Your Destination Terminal

When you arrive in Sanford you'll have to wait on the train for a few minutes while it is divided into segments and positioned alongside the platform. Track improvements at Lorton make this a much quicker process. You then de-train, walk to the waiting room, and wait for your car to be unloaded and driven up. If the train has been crowded it can take well over an hour until the last car is unloaded. On average, expect to wait about 45 minutes before you receive your car. The process is random and independent of the order in which the cars were originally loaded (although I've noticed that SUVs and vans are often the first vehicles unloaded, particularly at Sanford). As soon as your car's number is called (remember the numbered placard placed on your car?) you can climb in and drive away.
I-95 is the easiest way to drive to points north and south of DC; I-4 will take you directly to the Orlando/Walt Disney World area. I-4 also connects with the Florida Turnpike (a toll road using Florida's own "Sun Pass", rather than the EZ-Pass toll collection system commonly used in the Northeast and mid-Atlantic states) in the south Orlando area for an easy drive to Palm Beach County and Miami. If you go east from the Sanford station on Route 46 you'll connect with I-95, which will take you along Florida's east coast. Auto Train staff at Lorton and at Sanford will be happy to provide you with directions to nearby highways and destinations.
---
| | |
| --- | --- |
| | Next page discusses boarding the train, food, entertainment, and some tips for traveling with children. |
---
Amtrak does not endorse this page and other associated On Track On Line pages, nor does it sponsor this or any other On Track On Line page. Amtrak sources were used to compile or confirm some of the information here, but this does not represent official Amtrak information, nor is this information endorsed by Amtrak.