Welcome to ON TRACK ON LINE
If you like railroading, we hope you'll make this site the first stop in your daily journeys on the World Wide Web.
---
For Your Information...
Welcome to ON TRACK ON LINE
Welcome! We discuss train travel and various aspects of the railroading hobbies. We hope you will find the material here interesting and educational. We'll be happy to try to answer your questions and address your concerns. You may contact us via our "Meet Leaders" page.
Note: This site is designed for and best viewed using 800 by 600 pixels (or greater) screen resolution.
---
AMTRAK EQUIPMENT ROSTER
Our Amtrak Roster is the best publicly available roster of Amtrak equipment on the Web, and is updated frequently with equipment changes.
Looking for historical roster information? All 40 years of Amtrak roster history is now available! Visit our Amtrak By the Numbers page where you can find a link to an order form.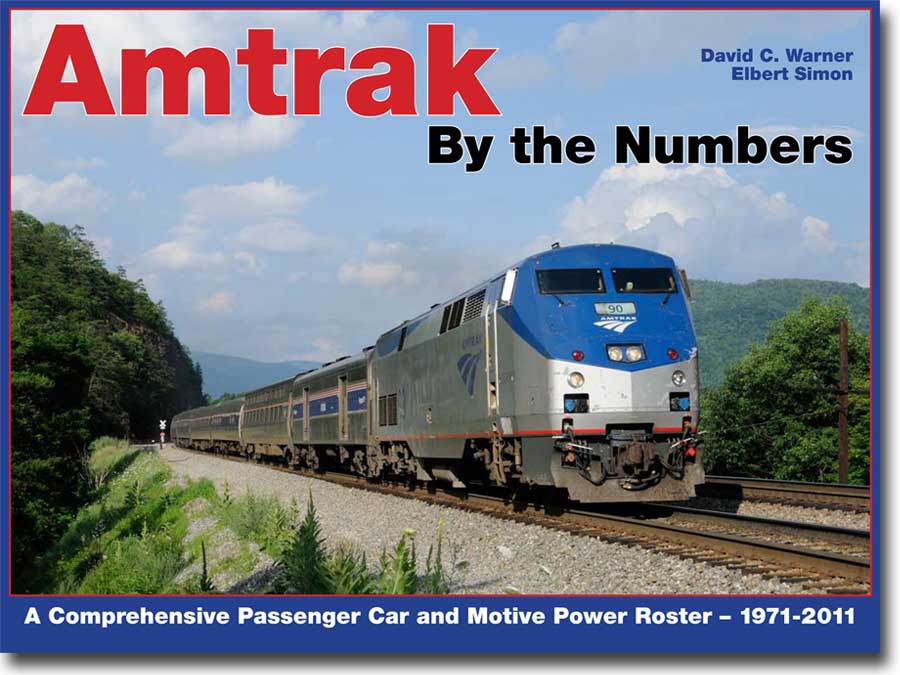 ---
STREETCAR HISTORIES BY KEN SPRINGIRTH!
Buy a book or DVD or anything you wish right here at On Track On Line through our association with Amazon.com. By clicking the logo above and doing your shopping, you'll be helping support your favorite web site when you purchase anything from Amazon.com during your visit at their site. You can also begin your search with our specific products links page.
On Our Rails
Amtrak Travel Tips
Planning on taking an Amtrak trip? Make sure you check out our revised Amtrak Travel Tips for help on how to make your trip more enjoyable.
---
Trip Reports
In this section of ON TRACK ON LINE, we present reports of trips on the rails. We hope you will enjoy reading about the adventures of others, and that they will tempt you to experience passenger rail travel too.
Highlights of recent trip reports:
About 300 other trip reports are available also.
---
Amtrak Radio Frequencies
Amtrak trains use the radio frequencies of the Host Railroads over which Amtrak trains run. Our Amtrak Frequencies section lists the AAR channels and frequencies Amtrak uses on each of its routes, with specific data about each route segment.
---
Operation Lifesaver
Operation Lifesaver is a national, non-profit public education program dedicated to ending collisions, deaths and injuries at highway-rail grade crossings and along railroad rights-of-way. We encourage you to visit Operation Lifesaver's Web Site.
---
Danny Boehr/Al Tuner "Muse From Here" Archive
Our Danny Boehr/Al Tuner - The Muse From Here Archive section contains a comprehensive collection of Al Tuner's "Muse From Here" essays on railroading distributed by e-mail beginning in 1994
The family of the late Danny Boehr dedicated a bench to him at Horseshoe Curve in August, 2003. Danny was a dear friend and a significant influence in railfanning using the internet. The Danny Boehr/Al Tuner Dedication Page includes the text of speeches and photos of the ceremony.
---
OTOL Forums
Visit our On Track On Line Forums/Bulletin Board to read news about all aspects of rail travel and railroad hobbies. Register on the Board to join discussions about your favorite railroad subjects.
---
OTOL Chat
OTOL Chat is another feature of On Track On Line. To learn all about it visit our Forums and read: The New OTOL Chat System or visit OTOL Chat directly. The Chat system is very easy to use and requires no special software. OTOL Forums membership is required.
Weekly Trains Chat: We hold a weekly Chat about "anything on flanged wheels" beginning at 9:30pm Eastern Time every Sunday evening. Log in with your OTOL Forums username and password.
---
Amtrak Disclaimer
Amtrak does not endorse this page, nor does it sponsor this or any other On Track On Line page. Amtrak sources were used to compile the roster, but the roster does not represent an official Amtrak roster, nor is the roster information endorsed by Amtrak. Similarly, information contained on the Amtrak Travel Tips, Auto Train Tips and Radio Frequencies was compiled by riders of the trains, and is not endorsed by Amtrak.
---